BIBLIOGRAPHY
Formative Years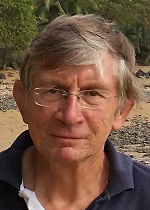 Born in the Netherlands, enjoyed classic Gymnasium ß education with all the usual rebellion, began publishing immediately after graduation, serially dropped out of law, psychology, and Sanskrit at Amsterdam University while making a living as a journalist and translator, experimenting with psychedelics, and kicking off his career as public speaker at Leyden and Ghent universities for student audiences. At age 23 he joined IBM as technical writer, to be fired soon after on grounds of non-conformity; then joined FHV, the hottest ad agency in town, as junior copywriter.
In 1968 he began a nearly three year journey through the Middle East and the Indian subcontinent, about half of it with fellow writer Ewald Vanvugt, described in Across the Bedrock of Islam, collecting material for another work of non-fiction and feature articles, photographing for Syndication International, trekking and climbing in the Himalayas and bathing in the Ganges, studying sitar at the feet of Ravi Shankar's father in law, the 'violent saint' Ustad Allauddin Khan, and recording traditional music for the Elektra Nonesuch series, and for Moses Ash's legendary Folkways Records (now a department of the Smithsonian Institution). Both are represented in musicological collections world-wide. In 2015 the Amsterdam Tropenmuseum interviewed him (in Dutch) about his journey for a short video used in an exhibition about young people travelling to the East in the sixties.

Midlife
| | | |
| --- | --- | --- |
| | | |
| In the Choco jungle, Colombia, with Cholo indian and rower, 1974. | | Wading back to Taprobane with supplies, 1984. |
Sabattical Years
In 1993 he sold agency share and dream-properties, and took his wife and two sons, then aged 7 and 8, on a slow journey around the world, trekking through South and South-East Asia, Australia, New Zealand and the USA, with a three year spell in New York's Westchester County, watching the deer in his backyard in between trips to the city, then back again to the old world - while writing a 'factional' trilogy on the mood and mind of the sixties. He spent much of the last decade on the family's rural properties in Southern Portugal.
A passionate ocean sailer fortunate enough to have yacht-owning friends, he has made several blue water voyages: multiple times up and down the rugged Iberian Atlantic coast, to the Madeira archipelago, and across the Atlantic to the Azores, both from Bermuda and from Lagos, the ancient port near stormy Cape St. Vincent where the Portuguese explorerers left for their voyages of discovery that gave us the world.
Maturity
Speaking Engagements
Peter ten Hoopen is an engaging, inspiring, and often provocative speaker on a wide range of subjects related to corporate culture and corporate personality, creativity, diversity, and personal and organisational development. In his workshops he has worked with nationals of some hundred countries.
Peter is quick on his feet, with a dry sense of humour, and comfortable with audiences of all sizes, from intimate settings to convention centres. He designs and leads seminars and workshops.
Bookings are handled by Speakers Academy and other agents, but may also be made directly with the author.
Contact